Frökake vakt för att stänga av, till alla modeller av oljepressen TäbyPressen.
Seed cake guard to stop the oilpress to all models of oilpress TäbyPressen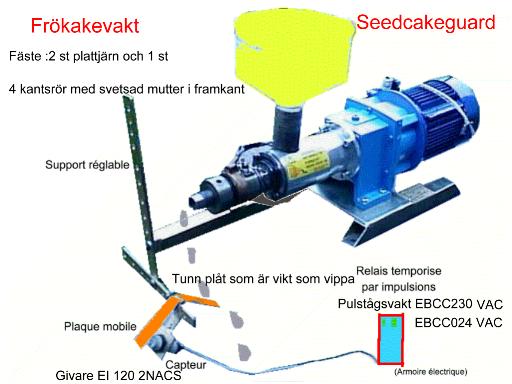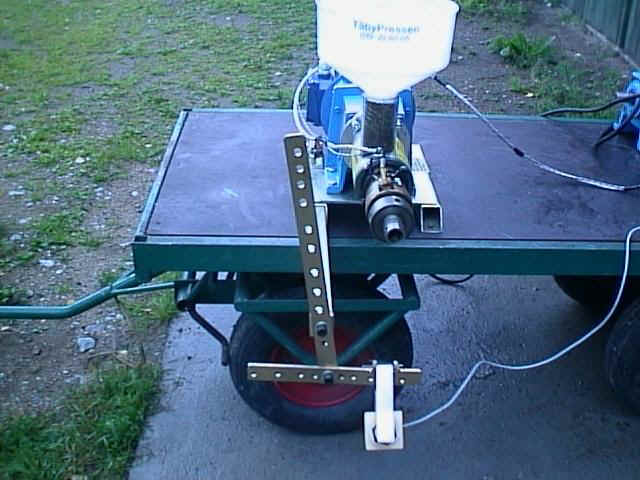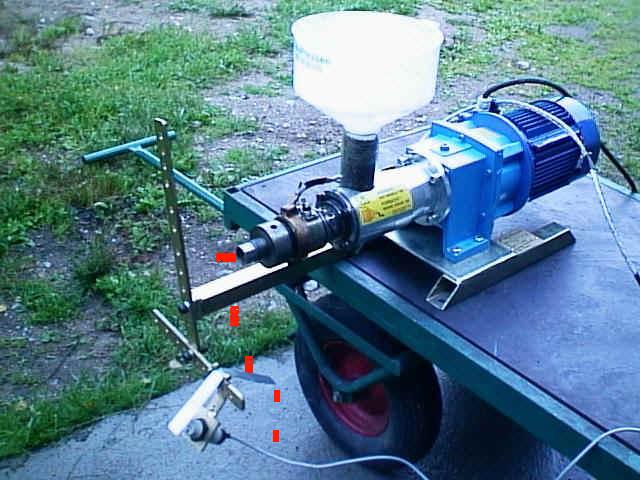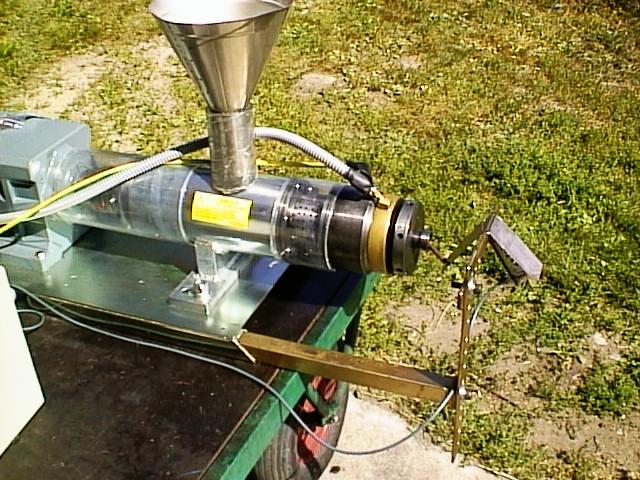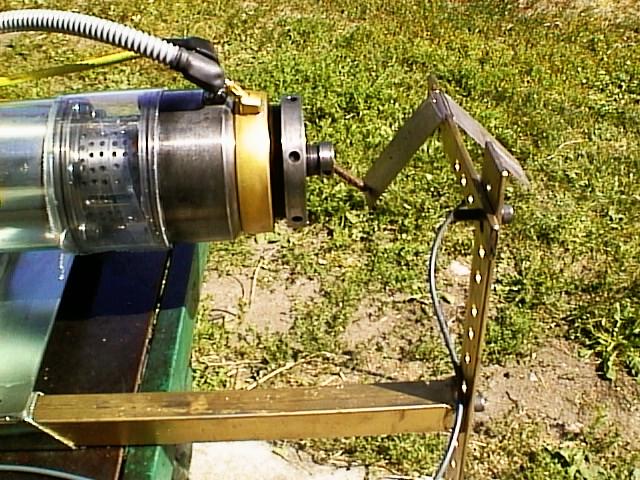 Vakten består av justerbart fäste till vipplåt som påverkars av frökakan från oljepressen.
Givaren ger impuls till ett regerbart relä "pulstågvakt"
Sensors gives impulse to "puls-train-guard"
Frökakevakten ger en signal och stoppar elmotorn om det inte kommer någon frökaka ur oljepressen efter en förinställd tid.
Seed cake guard gives signal if not anyone seed cake comes out of the oilpress and stop the electric motor
after about 1 minute .You can adjust the time
Fördelar. Argument
1 Passar alla oljepressar av typ Täbypressen.' 1 Fits all oilpress of type Täbypressen.
2 Enkelt att montera. 2 Simple to mount.
3 Enkelt att ta bort utan att justeringen eller inställningen ändras. 3 Simple to remove without that adjustment or
vid arbete vid munstycket m.m. configuration be changed.
4 Justerbar i alla lägen. 4 Adjustable in all mode.
5 Säker indikering på grund av metallvippa, det är metallen i 5 Safe indikering on behalf of metal vippa, it's
som indikerar. don´t cake that indicates it is the metal.
6 Vaktar vid slut frö. 6 Guard at end seed.
7 Vaktar vid stopp i oljepress. 7 Guard at stop in oilpress.
8 Tål dammig och oljedimma. (ej fotocell) 8 Bear dusty and oil fog. (don´t foto cell)
9 Ej påbyggnad av frökaka eller beläggning på givaren. 9 Don´t building of seed cake or coating on the sensor.
10 Vakten vaktar sig själv vid fel på vippa. 10 Guard guard itself at bugs on vippa.
Pris Frökakevakt, :- SEK + Moms. Price Seed cake guard Price Call my dealers for pricing
---
Temp olje-vakt Temp oil-guard.
Övervakar oljetemperatur. Supervision oiltemperature.
Stoppar oljepress när inställd Stopp the oilpress when
oljetemperatur överskrids. oiltemperature cross.
Pris Temp olje-vakt price about . Price temp oil-guard Call my dealers for pricing
---
TäbyPress Larm, Alarm
Innehåller/Contents: Centralenhet. Central control.
Trådlös rörelsevakt. Wireless move guard.
Trådlös magnetvakt. Wireless magnet guard.
Trådlös kodförbikopplare. Wireless code pass connecting.
Olyckslarmsfunktion. Accident guard function.
Trådlös brandvarnare. Wireless automatic fire alarm.
Batteri-eliminator Battery-elininator
Batteri-backup Battery-backup
Telefon-Larmuppringare Guard-phone call Call my dealers for pricing
---
Telefon-Larmuppringare .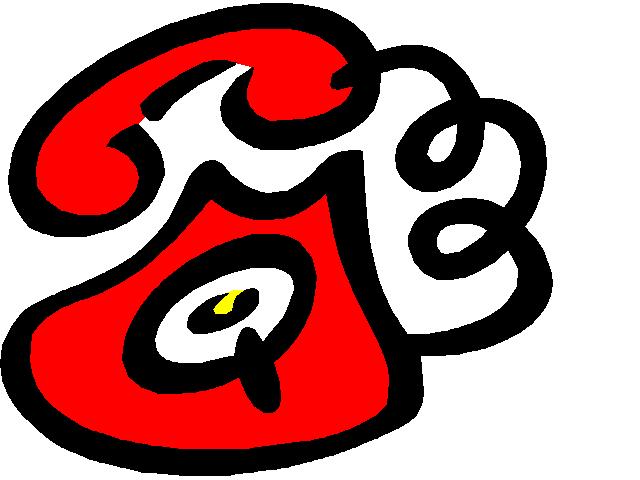 Guard-phone call .
Lämnar vid uppringning ett eget inspelat digitaltmeddelande på max 32 sek eller en tresiffrig objektkod till minicall (personsökare).
Ringer automatiskt upp1 till 4 st telefonnummer i valfri turordning utan fördröjning, tills någon kvitterat genom att svara.
Uppringningen startas genom en brytning (NC) eller (NO).
Kan kopplas till förberett uttag på elskåpet till TäbyPressen genom ett relä., eller annat som skall larmas ex stopp i villapanna, inbrott, översvämning mm. Svensk instruktionsbok.
Batterieliminator på 12 volt DC/55mA
( Batteri-backup tillkommer) Pris 1200- SEK + Moms
Skickar SMS till din mobiltelefon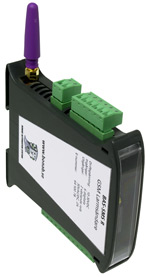 Pris på begäran


Anpassad för oljepress Täbypressen. SMS larmsändare vid stopp + nivåvakt för olja + brandlarm m.m.
Information om BAS-SMS R larmsändare

2004-05-20 Reservation för prisändringar från leverantören.
Övervakning. SMS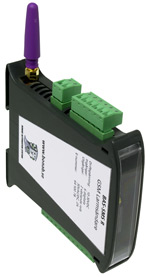 Guard SMS Havreeldning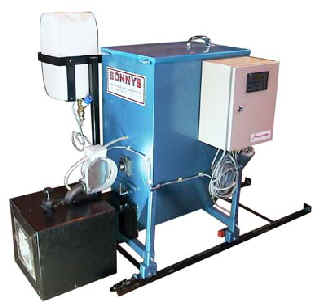 Linolja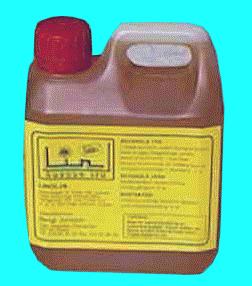 Hälsning från Bengt. Greeting Bengt.



Tel o fax 019 22 80 05 Tel o fax +46 19 22 80 05      YouTube
Skeppsta Maskin AB
Täby Skeppsta 336
705 94 Örebro
SWEDEN
Tel o Fax 019 228005 sales@oilpress.com Mobil och SMS: 073 1542941 , Skype : oilpress     

Greeting/Hälsning Bengt Jonsson
WEB design by Bengt Jonsson