Oilpress






VIDEO
Make biodiesel in an agricultural pesticide sprayer.
Biodiesel Biodiesel Biodiesel RME RME Biodiesel RME RME Biodiesel Biodiesel RME RME RME
Rapsolja Rapsolja Rapsolja Rapsolja Rapsolja Rapsolja Rapsolja Rapsolja Rapsolja Rapsolja

Biodiesel! Information from http://www.dangerouslaboratories.org/biodiesel.html
What is biodiesel? Simply put, it is diesel fuel that is made from vegetable oil. It will run in any unmodified diesel engine. It has many advantages over petroleum diesel fuel such as: 1) It burns cleaner 2) It has a higher cetane rating (less knocking) 3) It has better lubricity 4) You can make it yourself from used vegetable oil (a waste product) often for less than the cost of petroleum diesel.
How to make your first batch of biodiesel:
You will need the following things to make your first batch:
1) At least 1 Litre (1.1 Quart) vegetable oil. Canola oil, corn oil, soybean oil, etc will suffice.
2) A variable speed blender with a slow speed option. Use one with a glass pitcher only. The methanol that is used in this process will "eat" a plastic pitcher. Make sure that this blender will never be used for food products again.
3) A scale that will accurately measure 3.5 grams (.12 oz). I use a triple beam balance available through Edmund Scientific. Search the site for the keyword "balance". A good scale will cost between $100 and $200 and is a good investment. However, if you are on a budget, you can get the Edmund Scientific "Carry-With-You Twin Beam Balance" (Stock Number: CR30360-28) which will weigh up to 4 grams. This costs $25.
4) 1 bottle Red Devil Lye Drain Cleaner (Sodium Hydroxide) available from you local hardware store. Make sure the label says "contains sodium hydroxide". Most other drain cleaners are chlorine (Calcium Hypochlorite) based and will NOT work! Notice: Lye is poisonous! Take all necessary safety precautions!!
5) At least 200 milliliters (6.8 fl. oz) of methanol (Methyl Alcohol or "Wood" Alcohol). Methanol is widely available in 12 oz. quantities as "gas tank antifreeze" in auto parts stores, hardware stores and even some grocery stores. Popular brands include "Heet" and "Pyroil". Read the label carefully and make sure it says "contains methanol"! Many gas line antifreeze products contain isopropyl alcohol or "isopropanol" and will NOT work! Methanol is available in larger quantities as racing fuel through some racetracks that cater to drag racers and some "high performance" auto parts stores. Keep in mind that Methanol is both poisonous and flammable. Take all necessary safety precautions!!
6) A glass container that is marked for 200 milliliters (6.8 fl. oz). We like to use a beaker.
7) A glass or plastic container that is marked for 1 liter (1.1 Quart)
8) A wide mouth glass or plastic container that will hold at least 1.5 litres
9) A common spoon (preferably plastic or stainless steel).
10) Safety Glasses and Rubber Gloves! Methanol and Lye are extremely poisonous and must not come into contact with skin or eyes! Methanol is a poison that attacks the eyes (ocular nerves) even if it comes into contact with your hands. Use extreme care when blending the methanol and lye, as the blender can spash the chemicals around. Put on your glasses and gloves BEFORE opening the chemicals! Do your work close to a sink or hose, or have a bucket of water handy to wash any part of your body immediately if it comes in contact with these chemicals.
Step 1: Get organized in a well lit, well ventilated area! This process is best done at or above room temperature (70 degrees F or 21 Degrees C). Temperatures lower than 60 F or 15 C may cause an incomplete reaction. Plan for spills by spreading paper or plastic on your work surface. Put your safety glasses and gloves on before opening any chemicals!

"Heet" is a popular brand of "gas line antifreeze" in the US. It is widely available in auto parts stores, hardware stores and even some grocery stores.

Make sure that the label says "Contains Methanol"

Measure 200 milliliters (6.8 fl. oz) of methanol

Pour the methanol into the blender.

Notice the glass pitcher on the blender.

Weigh out 3.5 grams of lye on your scale. Notice that we use a white piece of plastic to hold the lye. The weight of the plastic is 4 grams, so we set the scale to 7.5 grams.

Turn the blender on "slow" speed and slowly add the lye to the methanol. You now have a mixture called "sodium methoxide". The methoxide must be used right away to make biodiesel. Do not plan on making a large batch of methoxide and storing it for use later. It loses its potency over time.

After the Lye has completly dissolved into the methanol (about 2 minutes), add 1 liter of vegetable oil to the blender. Blend on low speed for 20 to 30 minutes. The ideal speed for this process just barely creates a vortex or "tornado" in the oil without spashing the mixture around or frothing it up.

After the blending is complete, pour the mixture into the wide mouth jar. It is advisable to label all containers used in this project as "POISON"! And of course, keep all of this stuff away from children!

After about 30 minutes to 1 hour, you will notice a layer of darker colored glycerin settling to the bottom of the container. The lighter layer on top is biodiesel. Wait another few hours for complete settling. At that point, you can carefully pour off the lighter biodiesel from the top and discard the glycerin (or save the glycerin to use in soapmaking). An alternative would be to use a pump to remove the biodiesel from the jar. You are done!
It is always wise to use a "diesel fuel filter/water separator" with any diesel engine. These are available through some auto parts stores or www.westmarine.com. A good model is the Racor 120AS diesel fuel filter/water separator (West Marine # 411348).
Biodiesel has a solvent effect on natural rubber hoses and seals. While newer diesel engines have polymer hoses and seals (such as Dupont's "Viton" brand), older engines may need to be outfitted with new hoses and/or seals made of viton. Since most diesel injector pumps don't have rubber parts directly in contact with the fuel, it is usually easy to replace hoses and seals without any major dissasembly. A fuel mixture of 20% biodiesel and 80% petroleum diesel (called "B20") will have no effect on older natural rubber hoses.
Biodiesel will "cloud" at temperatures below 55 degrees F (13 degrees C). While this "clouding" is easily reversible by raising the temperature of the fuel again to above 55 degrees, it may cause temporary clogging of your fuel system, thus stopping your engine. Petroleum diesel fuel (Diesel #2) can be used down to -10 degrees F (-24 degrees C). It is advisable to use a blend of at least 50% petroleum diesel with your biodiesel if you are going to be operating in cold weather. You can experiment with different blends of biodiesel and petroleum diesel to determine what works best. Simply mix up batches of fuel with different ratios of petroleum diesel and biodiesel in glass jars and put in a freezer. Use a thermometer to determine the temperature of the fuel. Periodically check on the fuel to determine at what temperature it gets cloudy. This temperature is the "cloud point". It is best to determine this point at home before you head out on the road and get stranded in a snowstorm because your mixture is too rich in biodiesel. Of course, if you are going to be operating during the warm months, or in a warm climate, you can use 100% biodiesel with no problems.
Test of good biodiesel
PH 7.00
Density 0.88
Viscosity the same as diesel oil.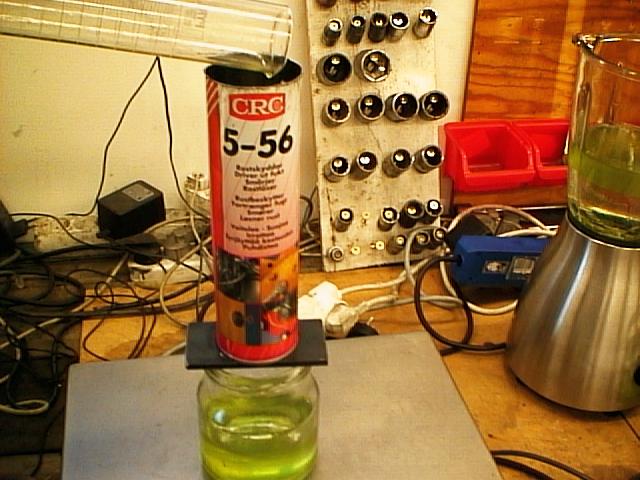 To test viscosities in a self made meter from a used 5-56 spray can.
Room temp of oil about +16 to 17 Dg C
1 Take a used 400 ml 5-56 spray can and saw off the topp.
2 Drill a 2 mm hole in the bottom.
3 Put the spray can over a sheet of glass.
4 Fill 250 ml of Biodiesel in the 5-56 spray can.
Usual diesel oil is the same about 2 minutes and 7 sec.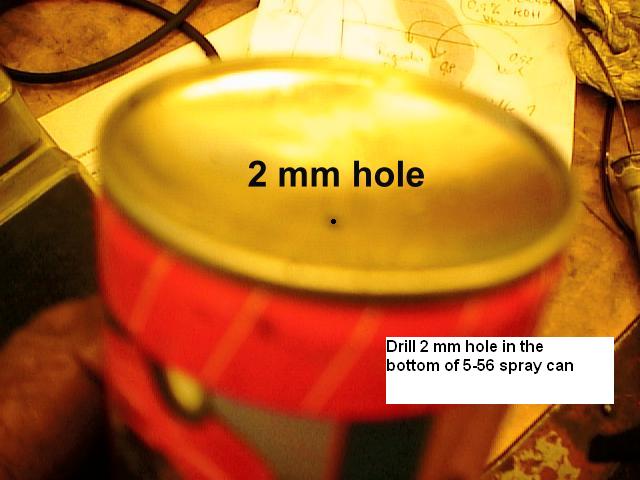 Biodiesel it takes 2 minutes and 7 sec to close the spray can the same.

50/50 raw rape oil / diesel about 2 minutes and 7 sec.
Raw rape oil about 5 minutes.
It is too thick to run in an engine. <![if !vml]>
<![endif]>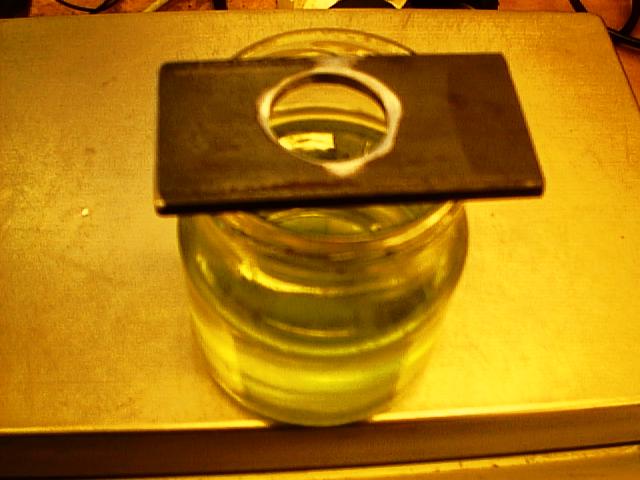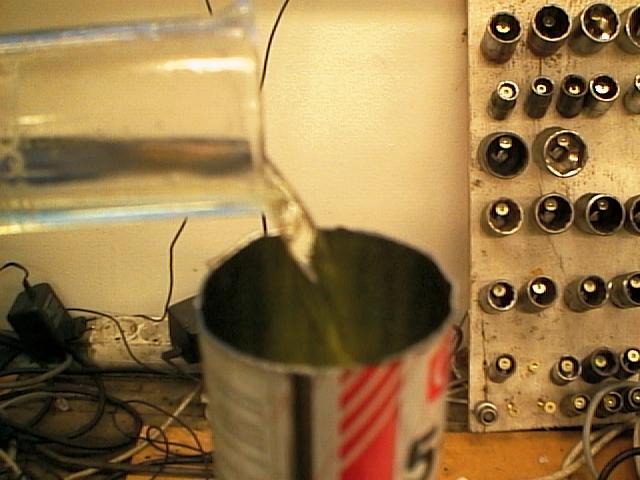 Wash-test with unwashed biodiesel -- left, after a violent 10-second shaking; right, biodiesel and water separated cleanly within minutes.
This is the most useful all-round test, and it's very simple: Put 150 ml of unwashed biodiesel (settled for 12 hours or more, with the glycerine layer removed) in a half-litre glass jar. Add 150 ml of water, screw the lid on tight and shake it up and down violently for 10 seconds or more. Then let it settle. The biodiesel should separate from the water in half an hour or less, with amber biodiesel on top and milky water below. This is quality fuel, a completed product with minimal contaminants. Wash it and then use it with confidence.

But if it turns into something that looks like mayonaisse (emulsifies) and won't separate, or if it only separates very slowly, with a thick white layer sandwiched between water and biodiesel, it's not quality fuel and your process needs improvement. Either you've used too much catalyst and made soap (better titration), or a poor conversion has left you with mono- and diglycerides (try more methanol, better agitation, longer processing time, better temperature control), or both.

Whichever, you're headed for washing problems. Super-gentle washing techniques might avoid the problems, but you'll still be left with poor-quality fuel laced with contaminants that are bad for the engine and the fuel system.

If you have an emulsion any thicker than the normal "paper thin" interface layer between oil and water, the batch needs to be retreated. retreat as with virgin oil, but using only 10% methanol and the standard 3.5 g of lye per litre of oil.

Even bubble-washing is quite gentle, and it's worth repeating the test with some washed fuel -- it should separate from the water cleanly within a few minutes.

See:
Washing
How the process works

You can run the diesel engine with many differents way. Test of viscosity:
1 Mix raw rape-oil/ diesel oil 50/50 the same viscosity as diesel oil. Test: 2 minutes 7 sec.
Buy cooking oil in a department store and mix with diesel. or make raw rape oil in a
Oilpress: http://www.rapsolja.se/type55.htm
2 Warm up raw rape-oil from oilpress to +50 to +70 Dg C the same viscosity as diesel oil with converter
Test: 2 minutes 7 sec. http://www.rapsolja.se/drive_your_diesel.htm
3 Make Bodiesel from oilpress in a tank the same viscosity as diesel oil with converter
Test 2 minutes 7 sec. http://www.rapsolja.se/biodiesel-information-fran-skeppsta-maskin-ab-eng.htm
Links from http://journeytoforever.org/biodiesel_make.html

journeytoforever är bra site för information om förnyelsebar energi
Hazards Test-batch mini-processor Simple 5-gallon processor
Journey to Forever 90-litre processor The 'Deepthort 100B' Batch Reactor
Ian's vacuum biodiesel processor Chuck Ranum's biodiesel processor
Micro-Production System for Biodiesel 833 Gallon Per Day Batch Plant
K.I.S.S. processor Pelly "Model A" processor "Foolproof" method processors
The touchless processor Continuous reactors How to make a cone-bottomed processor Biodiesel technology Ageratec Carryon Fuelmeister

Here is a video bioprocessor Fuelmeister in USA

It is very safely to work out of doors with methanol and KOH
Make your own biodiesel processor.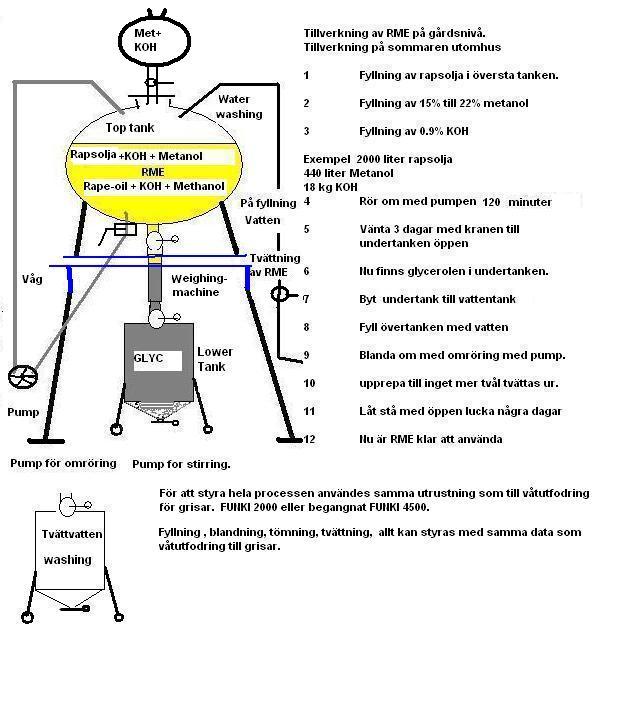 Processor controller from FUNKI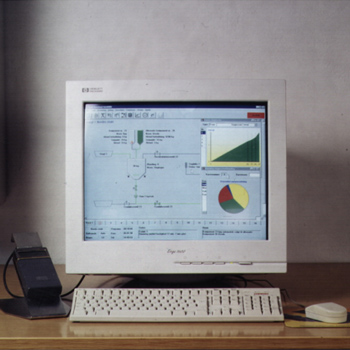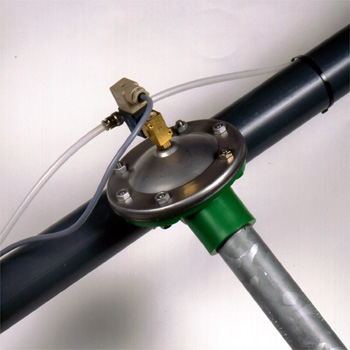 Warning. There are some rules to handle methanol, CH3OH.

Natriumhydroxid NaOH, (Sodium hydroxide. Potassiumhydroxide KOH, and citric acid C6H8O7.
In winter mix RME with 60% common winter diesel to get better viscosity.
Skeppsta Maskin AB do not take responsibility of these instructions.
http://sv.wikipedia.org/wiki/Kalciumhydroxid Data Kalciumhydroxid, eller släckt kalk
Potassium hydroxide KOH
From Wikipedia, the free encyclopedia.
The chemical compound potassium hydroxide, (KOH) sometimes known as caustic potash, potassa, potash lye, and potassium hydrate, is a metallic base. It is a very alkaline compound used in agriculture to correct the pH of acidic soils. It can also be used as a fungicide or even an herbicide.
Uses
It is a major industrial chemical used as a base in a wide variety of chemical processes.
It is used as a catalyst in reactions like the production of biodiesel, the advantage of using KOH and not NaOH is that NaOH "clumps" and KOH does not.
Some uses of KOH include acrylate ester copolymer coating, defoaming agents used in the manufacture of paper, formulation aid for food, pH control agent, polyethylene resins, textile processing.
Other uses include in veterinary medicine in disbudding calves horns and to dissolve scales and hair; manufacture of cleansers; in wart removal and as a cuticle solvent. This type of compound is also used in washing powders, some denture cleaners, non-phosphate detergents, and drain or pipe cleaners.
It is also a traditional ingredient in the making of soap, and for this purpose was historically obtained in an impure form by steeping wood ash in water for a long period.
Historically, to create potash, one first created potash lye in solution, then one boiled off the remaining liquid.
To create potash lye, one takes an open-bottomed barrel, and places it on a stone base with a groove cut into it, which will direct the resulting liquid into another container. Then one places a layer of straw at the bottom, covered by a layer of sticks. This filter layer will prevent the ashes from contaminating one's solution. Then one fills the barrel with wood-ashes and pours water over it. The water will leach out the potash lye into one's receptacle.
This product will be of variable quality. Historically, it was measured by seeing how high an egg would float in the solution.
To create pearlash, one bakes the potash lye in a kiln until all of the carbon impurities are baked off.
Food preparation
Food uses of lye include washing or chemical peeling of fruits and vegetables, chocolate and cocoa processing, caramel color production, poultry scalding, soft drink processing, and thickening ice cream. Olives are often soaked in lye to soften them, while pretzels and German lye rolls are glazed with a lye solution before baking to make them crisp.
Lye is used to make the Scandinavian delicacy known as Lutefisk (from lutfisk, which directly translated to English means "lye fish"; basically cod jellied in lye). Hominy is dried maize (corn) kernels reconstituted by soaking in lye-water.
Fats and oils

Fatty acids %

C4:0
Butyric

C6:0
Caproic

C8:0
Caprylic

C10:0
Capric

C12:0
Lauric

C14:0
Myristic

C16:0
Palmitic

C16:1
Palmitoleic

Molecular wt.

88

116

144

172

200

228

256

254

Tallow

-

-

-

-

0.2

3

27

2

Lard

-

-

-

-

-

1

26

2

Butter

3.5

1.5

-

2.5

3

11

30

3.5

Coconut

-

-

8

8

48

16

8.5

-

Palm kernel

-

-

3

5

48.5

17

7.5

0.5

Palm

-

-

-

-

-

3.5

39.5

-

Safflower

-

-

-

-

-

-

5.2

-

Peanut

-

-

-

-

-

0.5

7

1.5

Cottonseed

-

-

-

-

-

1.5

19

-

Maize

-

-

-

-

-

1

9

1.5

Olive

-

-

-

-

0.5

1

13

2

Sunflower

-

-

-

-

-

-

6

-

Soy

-

-

-

-

-

0.3

7.8

0.4

Rapeseed/Canola

-

-

-

-

-

-

3.5

0.2

Mustard

-

-

-

-

-

-

3

-

Cod liver oil

-

-

-

-

-

4

10

14.5

Linseed

-

-

-

-

-

0.2

6

-

Tung

-

-

-

-

-

-

-

-
Fats and oils
(continued)

Fatty acids %

C18:0 Stearic

C18:1 Oleic

C18:2 Linoleic

C18:3 Linolenic

C20:0 C22:0 Arachydic - Behenic & others

Mono-
unsaturated acids <C16:1

C20:1 C22:1 Arachidonic - Erucic & others

Molecular wt.

284

282

280

278

326

226

324

Tallow

24.1

40.7

2

-

0.7

-

0.3

Lard

13

45.2

10.3

-

-

-

2.5

Butter

12

26

3

-

1.65

1.5

0.85

Coconut

2.5

6.5

2

-

-

-

0.5

Palm kernel

2

14

1

-

1.5

-

-

Palm

3.5

46

7.5

-

-

-

-

Safflower

2.2

76.4

16.2

-

-

-

-

Peanut

4.5

52

27

-

7.5

-

-

Cottonseed

2

31

44

-

-

-

2.5

Maize

2.5

40

45

-

-

-

1

Olive

2

68

12

-

0.5

-

1

Sunflower

4.2

18.7

69.4

0.3

1.4

-

-

Soy

2.5

26

51

5

7

-

-

Rapeseed/Canola

2

13.5

17

7.5

0.9

-

56.3

Mustard

1.5

39.5

12

8

-

-

36

Cod liver oil

0.5

28

-

-

-

1

42

Linseed

5

17.3

16

55

0.5

-

-

Tung

-

8

12

80

-

-

-
Oils and fats

Total
molecular weight

Density

Density
@ 50ºC

Volume
oil (ml)

Volume
methanol (ml)

Stoich. ratio
methanol : oil %

Tallow

858.54

0.895

0.88

981.18

121.52

12.4

Lard

863.73

0.92*

0.9*

959.7*

121.52

12.7

Butter

797.64

0.91

0.89

896.73

121.52

13.6

Coconut

674.51

0.926

0.91

744.57

121.52

16.3

Palm kernel

704

0.912

0.89

789.33

121.52

15.4

Palm

847.28

0.923

0.9

938.29

121.52

13

Safflower

879.1

0.927

0.91

966.44

121.52

12.6

Peanut

885.02

0.919

0.9

984.45

121.52

12.3

Cottonseed

867.38

0.918

0.9

963.76

121.52

12.6

Maize

872.81

0.923

0.9

966.57

121.52

12.6

Olive

870.65

0.923

0.9

964.17

121.52

12.6

Sunflower

877.22

0.925

0.91

969.3

121.52

12.5

Soy

882.82

0.925

0.91

975.5

121.52

12.5

Rapeseed/Canola

959.04

0.914

0.89

1072.75

121.52

11.3

Mustard

925.43

0.916

0.9

1032.85

121.52

11.8

Cod liver oil

908.81

0.929

0.91

1000.34

121.52

12.1

Linseed

872.4

0.934

0.91

954.48

121.52

12.7

Tung

873.68

0.944

0.92

945.54

121.52

12.9

* Approximate
Anlys

Enhet

Produkt


specifikation

Typiska


analysdata

Densitet vid 15oC
kg/m3
870-900
983
Flampunkt
oC
>100
160
Filterbarhet CFPP
oC
–5
–15/–20
Viskositet vid 40oC
mm2/s
3,5–5,0
4,5
Energiinnehåll
MJ/kg
38
Energiinnehåll
MJ/l
33,3
Cetantal
48
49
Svavelhalt
mass ppm
10
5
Fosforhalt
mass ppm
10
2
Vattenhalt
vol–%
<300
<300
Aromahalt
vol–%
varav PAH
vol–%
Begynnelsekokpunkt
oC
195
195
95% överdestillerat
oC
350
350
http://www.lundberg-lagerstedt.se/convert/index.htm Vikt omvandlare mm.
http://www.kitchen-biodiesel.com/Biodiesel%20calculator.asp Biodiesel calkulator
---
---